The Healthy House – Your House and Your Health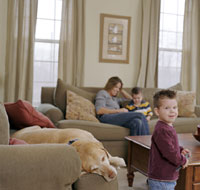 Most people spend the vast majority of their lives inside their own homes. We raise our children, entertain our friends, relax and sleep in the comforting confines of our home's four walls. So doesn't it make sense for our personal environment to be healthy?
The American Lung Association thinks so. To address growing concerns about the quality or air in our homes – including the increasing number of Americans suffering from allergies and asthma – the Association began the Health House program in 1993.
The Health House program offers a set of rigorous standards to reduce your exposure to indoor air pollution such as smoke, dust, mold, volatile organic compounds and other pollutants. Over the years, exposure to these substances can pose serious health risks and contribute to respiratory disease, asthma and even lung cancer.
We Build Healthy
To become an American Lung Association Health House Registered Builder, Capital Construction must use strictly defined building techniques and materials. Homes built to the rigorous Health House guidelines must be entirely ventilated (including the garage), moisture must be controlled, and potentially harmful materials eliminated — especially paints, finishes and furnishings that contain volatile organic compounds (VOCs).
We take the following measures to ensure that your home is healthy:
Air sealing
Safe insulation materials
High performance windows
Sealed combustion appliances
High efficiency air filtration
Humidity control
Low VOC interior finishes
Reduced use of carpet
Central vacuum system
Foundation waterproofing
The Cost / Benefit of Your Healthy House
Building to American Lung Association Health House guidelines initially costs more, adding three- to-five percent to construction expenses. However, your house will cost less to heat or cool than a house built with traditional construction techniques. You save on your energy bill month after month, and the amount you save is likely to increase over time.
Because we take the extra effort to build homes to the Health House guidelines, you gain the enjoyment and peace of mind that comes with improved air quality, lowered maintenance costs, high resale value and building products that are less toxic and more durable. You can breathe easy in your home, knowing that your family is enjoying a safe, healthful environment.
For more information on the risks of indoor air pollution and the American Lung Association Health House program, visit their website at www.healthhouse.org.