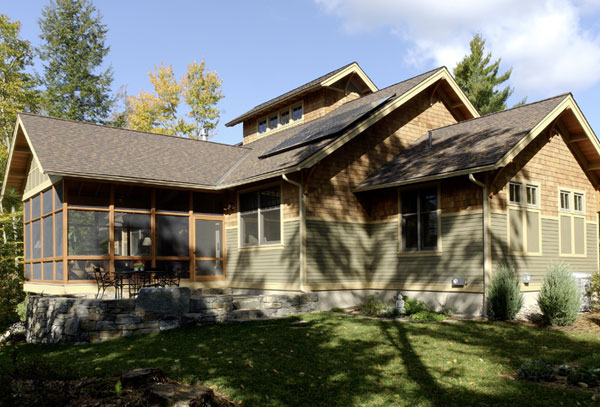 In its most basic form building green is taking a whole house approach from the very beginning, taking into consideration how all the parts fit together to create a better product.
It can be low tech or it can be mechanically more sophisticated but regardless it is essentially building right the first time.
It sounds simplistic, but aside from technological advances in heating and air conditioning systems and building materials it really is about common sense and using sound building practices. All the houses we build at Louden Ridge in Saratoga Springs, NY meet or exceed the minimum standards established by current Building Code for energy efficiency and indoor air quality. In fact, our very first house in Louden Ridge was certified by the American Lung Association as a Healthy Home and Louden Ridge is registered as a Healthy Home Community, the only one of its kind in New York State. Our most recent project in Louden Ridge, the Willows model, achieved the 2nd highest rating for energy efficiency in New York State as measured by the New York State Energy Research and Development Authority (NYSERDA) Energy Star Program.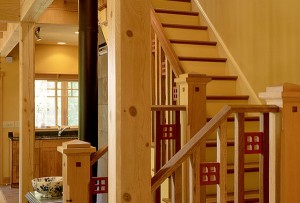 Additionally, we use materials harvested within a 50 mile radius of Saratoga Springs whenever possible. Granite and white pine timbers both come from upstate NY, in the Lake George area. Salvaged wood flooring is culled from barns throughout Saratoga County and beyond. Buying locally reduces our carbon footprint and has its roots in our agrarian past.
Farm houses in the North East and Upstate New York were built with common sense principles in mind. Deep overhangs at the eaves shielded the house from the heat of the summer sun but allowed the sun to shine through windows in the winter when it was lower in the sky. Building materials were by necessity indigenous but also chosen for durability, think slate roofs and hardwood floors, as opposed to today's materials which are designed to last ten to twenty years at best, i.e., 20 year roof shingles, carpeting and vinyl siding.
A green house will function well over time, both esthetically and economically. Build it right the first time and it will be durable, long lasting, low maintenance and energy efficient.
Capital Construction is a custom home builder, we specialize in building green homes in Saratoga Springs, NY, and surrounding regions including Albany, Clifton Park, Latham, Schuylerville, and in the Adirondacks. Please contact us today to inquire about your new home.
Posted in: The Latest